Here are two nice treats on the day before Spring starts:
Julie James' novel,
Something About You
is currently priced at $1.99 for the e-book version only. Even if you already have a paperback, for $1.99 it's a steal to load onto your Kindle or Nook. This is my favorite JJ book so I already snatched my e-book copy.
Here's the link
from Julie's Facebook page.
Click here for Nook
Fate has thrown two sworn enemies...
Of all the hotel rooms rented by all the adulterous politicians in Chicago, female Assistant U.S. Attorney Cameron Lynde had to choose the one next to 1308, where some hot-and-heavy lovemaking ends with a death. And of all the FBI agents in Illinois, it had to be Special Agent Jack Pallas who gets assigned to this high-profile homicide. The same Jack Pallas who still blames Cameron for a botched crackdown three years ago—and for nearly ruining his career.
Into each other's arms...
Work with Cameron Lynde? Are they kidding? Maybe, Jack thinks, this is some kind of welcome-back prank after his stint away from Chicago. But it's no joke; the pair is going to have to put their rocky past behind them and focus on the case at hand. That is, if they can cut back on the razor-sharp jibes—and smother the flame of their sizzling-hot sexual tension.
Jill Shalvis continues the fabulous Lucky Harbor series this Spring/Summer. The first book in the new trilogy is titled It Had to Be You. Right now when you pre-order an e-book version of the book, you will get a bonus copy of Blue Flame(part of an old firefighter trilogy). Available from Amazon and Barnes and Noble (not sure of other retailers).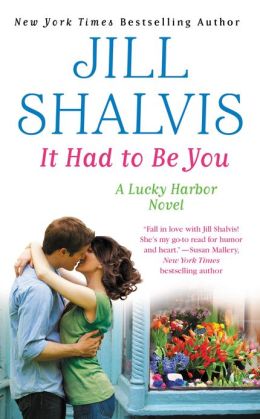 Ali Winters is
not
having a good day. Her boyfriend left her, everyone in town thinks she's a thief, and now she's about to be kicked out of her home. Her only shot at keeping a roof over her head and clearing her name is to beg for help from a police detective who's as sexy as he is stern....
After a high-profile case goes wrong, Luke Hanover returns to his hometown for some peace and quiet. Instead he finds a bombshell brunette in a heap of trouble. As he helps Ali put her world back together, the pieces of Luke's own life finally seem to fall into place. Is this the start of a sizzling fling? Or are Luke and Ali on the brink of something big in a little town called Lucky Harbor?
So two pretty sweet deals for romance lovers out there by two of my favorite romance authors.
Happy Reading everyone!